Shopping Cart
Your Cart is Empty
There was an error with PayPal
Click here to try again
Thank you for your business!
You should be receiving an order confirmation from Paypal shortly.
Exit Shopping Cart
The first ever VTF online fishing tournament concluded on July 12th, 2020 as a field of 28 competitors fished from Monday July 6th until the end of the event. Alec Rizk from Williamsburg, Virginia is the champion of the VTF Summer 2020 Circuit Event #1 with a 5 fish limit measuring 92", a slim lead over 2nd place finisher Coty Wood from Hatboro, Pennsylvania with a 5 fish limit of 91.25".
With a week of above average temperatures, Alec Rizk's goal was to hit the water as much as possible and attempt to break 90" to gain post a top finish in the event and gain valuable VTF Angler of the Season Points. With very warm water temperatures, Rizk focused on targeting deep water the entire event. Since Rizk did not have long enough periods of time to put his boat in his local public lakes, he just fished from the banks instead. Rizk caught four of his five keepers he submitted by dragging an Okeechobee Craw Original Menace Jig by Menace Baits along deep sloping rocks and bluff walls. To finish out his limit, Rizk fished an Original Pulse Series Menace Jig by Menace Baits along submerged brush.
The VTF Summer 2020 Circuit is an engaging series of three 1-week online fishing tournaments held over the course of a three-month season. Anglers submit a limit of their longest bass and compete for big prizes while receiving points based off how they finish to compete for the coveted VTF Circuit Angler of the Season award.
Click here to view the event leaderboard and current VTF Angler of the Season Standings: https://docs.google.com/spreadsheets/d/1EFmQvurenuuK5ZtYo_112lLsROZQb7Gvqps4NGxUWAM/edit#gid=1704081901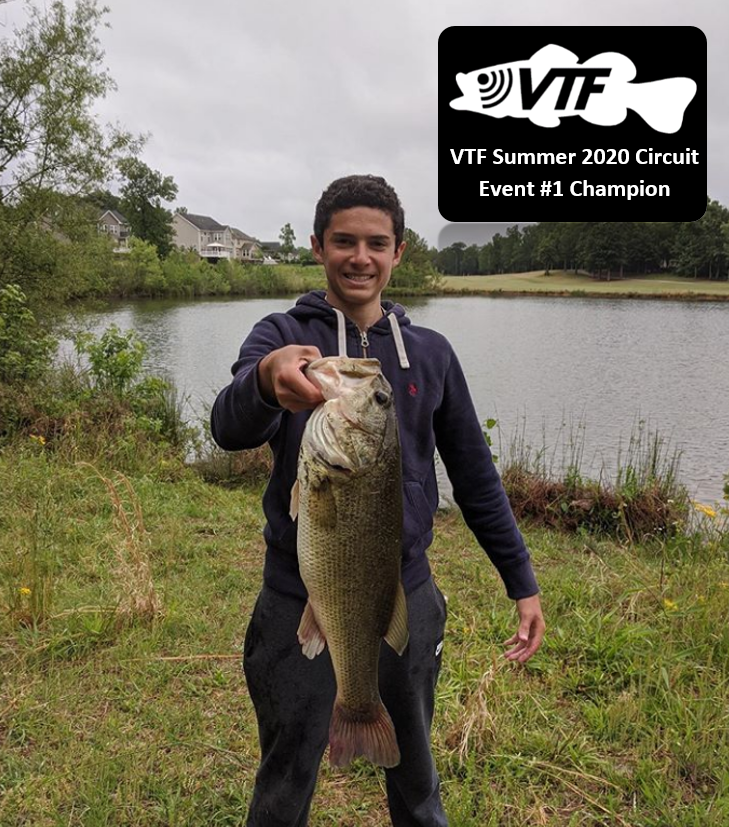 Bass fishermen around the world crave competition. Virtual Tournament Fishing (VTF) is a new online tournament fishing league that allows these anglers to, "Experience the Thrill of Competitive Bass Fishing Anywhere!" VTF offers a variety of exciting and engaging circuits and events as well as an annual no-entry fee VTF World Championship that anglers can qualify for by competing through the ranks. Entry fees are very affordable and the prizes are big!
Virtual Tournament Fishing CEO Anthony Awgul founded the organization in June 2020. After hosting several successful online tournaments with his other company's pro-staff team, Anthony decided to dramatically invest in the concept of online fishing tournaments and offer the format to the entire bass fishing community. Anthony explained, "Online tournaments are so exciting and unique because anyone can take part in an engaging fishing tournament no matter their location or whether or not they have access to a boat. The concept of online tournaments is simple; you register for an event, you compete by catching and photographing your best fish, and you submit your catches to the tournament director before the end of the event. These tournaments are becoming more popular lately, but I wanted to introduce an engaging and organized format of online fishing tournament circuits. With an exciting "Angler of the Season" points race in our circuits, many qualfication opportunities for the VTF Annual World Championship, and great prizes and merchandise in each event, VTF will truly allow anyone to "Experience the Thrill of Competitive Bass Fishing Anywhere!" I'm looking forward to getting our first events underway and I'm excited to see anglers all around the world get involved."
Virtual Tournament Fishing Tournament Director Grant Leyden is just as excited to see the new league established. He explained, "I have been the tournament director for several online tournaments and each experience has been tremendously successful. Anglers love the competition and they get really into it. Even though competitors aren't fishing against each other on the same body of water, it's amazing to see a sense of community and friendy competition develop between the competitors. What I think fisherman enjoy most about online fishing tournaments is that they have opportunity to compete and fish on their favorite bodies of water local to them. Whether you're fishing from a boat, a kayak, on the bank, or anything in between while in a pond, a river, a stream, or a lake; it's all about figuring out how to catch the largest possible limit of bass and beat the rest of the competition. This new format we're rolling out with VTF is going to allow so many anglers around the world of all skill levels and backgrounds to come together in a community and compete against each other in a very organized format and strive to win the Angler of the Season points race and qualify for the VTF Annual World Championship!"
Learn more about VTF and register for a VTF event at www.virtualtournamentfishing.com/tournaments. Be sure to connect with us on Facebook at www.facebook.com/virtualtournamentfishing and follow us on Instagram at @VTF_Fishing
/